A Habitat home is a stabilizing force for a family. Better, affordable living conditions lead to improved health, stronger childhood development and the ability — and financial flexibility — to make forward-looking choices.
No matter who we are or where we come from, we all deserve to have a decent life. We deserve to feel strength and stability day after day. We deserve to know we have the power to take care of ourselves and build our own futures. At Habitat for Humanity, this is what unites us. Through shelter, we empower. Our shared vision is a world where everyone has a decent place to live. Because you, me, we — we're all humans. And every single one of us deserves the opportunity for a better future.
A Habitat home is a strong foundation for a family, an opportunity on which they can build a better life. Strong and stable homes help build strong and stable communities!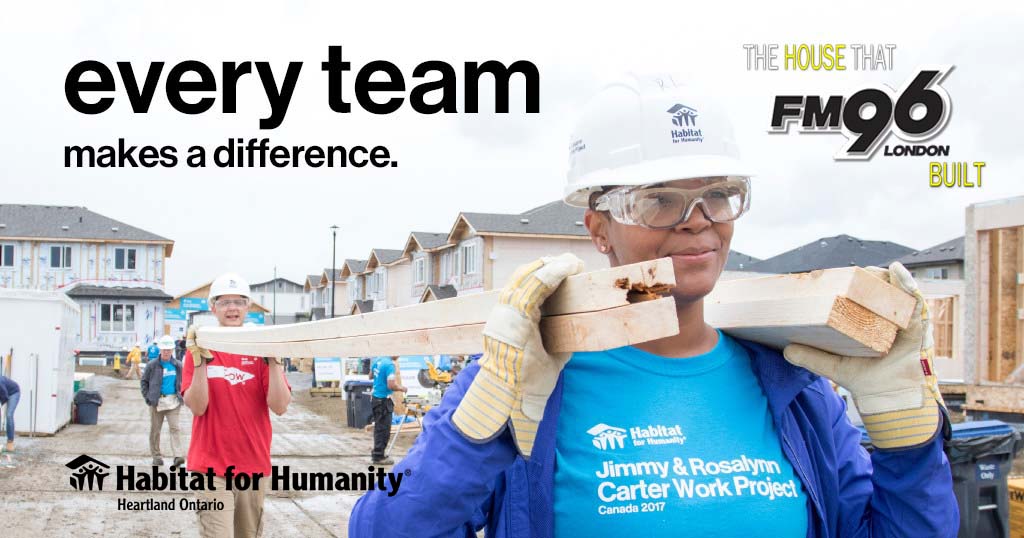 GIFT IN KINDS NEEDED:
Attic Insulation and Blower, Basement Floor, Bathroom Accessories, Carpet, Laminate, Drywall, Mud, Electrical Materials, Exterior Windors & Doors, Floor System Supply, Framing Materials, Fridge, Stove, Washer and Dryer, Front Porch & Stairs, General Framing Labor, Interior stairs, Paint Supply & Accessories, Patio Stones, Pave apron, Plumbing Fixtures, Plumbing Supplies, Roof Trusses Supply, Sod & Grass, Eaves trough, Steal Toes Work Boots, etc…
Think you can help out FM96 and volunteer your time or materials to help us build a home for a family? Email HABITAT@FM96.COM
QUICK FACTS:
Right now we're looking for Trade people to volunteer or donate "Gifts In Kind"
Also looking for organizations to sign up to help us build our house! No construction experience required. Build Day Team Members help pay for building materials while doing a good thing for a family in need. Each Team of 10 people commits to raising $2,500 ($250 per person) to participate on a Habitat Build Day
---
What is the Habitat for Humanity ReStore? What can I buy there? Can I donate stuff as well? 
Join Jim and Gerry from the @Habitat for Humanity London ReStores as they take you on a tour on all the fun things you can buy at the London ReStore (located at 5-40 Pacific Ct) and help a family get a new home! #TheHouseThatFM96Built
What exactly does Habitat for Humanity do for our community?
Join Jim as he takes a walk through a Habitat for Humanity neighborhood to chat with CEO Brian Elliot of Habitat for Humanity Heartland Ontario about all the amazing things Habitat for Humanity does for our community!  Stay tuned for our next videos as we go through the steps to actually building our own Habitat for Humanity Home for a lucky FM96 Family! #TheHouseThatFM96Built