Canada has the highest rate of MS in the world. When you join MS Walk, you join our country's collective effort to help improve the lives of Canadians affected by MS. The dollars you raise are invested in world-leading MS research happening right here in Canada. It's an exciting time for MS research, and your fundraising will help improve the quality of life of Canadians affected by MS today, and those who may receive a diagnosis tomorrow.
Bring your family and friends together to share in the start/finish-line activities, team awards ceremonies and amazing stories from people living with MS! We can't wait to celebrate with you!
Register yourself or team today here. 
To pledge Team Dunner, click here. 
I was diagnosed with MS in June of 2010. I am part of the MS Walk and MS Bike Tour because I believe we will end multiple sclerosis – with your help we can get there. Please give generously.

In 2011, we walked in our 1st MS Walk as Team Dunner.

In 2012, we were the NUMBER 1 fundraising team in all of London, Ontario!

In 2013 and 2014 we were a top fundraising team in London.

In 2016, Andrea became the official MS Bike Tour Ambassador for all of Ontario, and we also celebrated being the LARGEST fundraising team in London at the MS Walk with over 30 members.

Now it's 2018 – and it's time to kick it into high gear! Please follow my team's journey below and on-air as we raise funds for the Mandarin MS Walk and the PWC MS Bike- Grand Bend to London!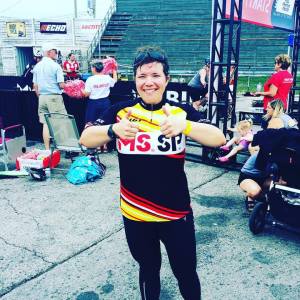 Tweets by teamdunner